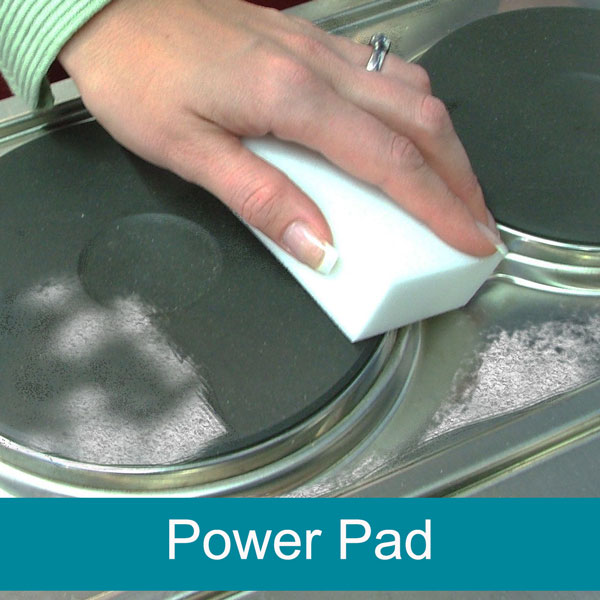 Power Pad
The Balbo Power Pad Mini is the revolutionary new way to effortlessly remove the toughest streaks and stains in your household. No more tea stains, water scale, ingrained grease, stains on wooden tables or children's marker scribbles on walls!
With Balbo Power Mini Pads you get the big cleaning power of a Power Pad in a size that's perfect for those small single jobs; whenever that tough stain or mark appears or in those hard to reach spots. This offer includes 20 Balbo Power Pad Mini's.
Order the 20 Balbo Power Pads Mini's now and you are ready to clean the impossible!
Balbo's Power Pad offers a unique cleaning solution that is both powerful and easy. The Power Pad and a little bit of water make the traditional sponge, cleaning products and elbow grease totally unnecessary in the battle against those tough to remove stains.
One Balbo Power Pad is 4 x 6 x 1 cm large. The Power Pad works within seconds: just wet it and wipe clean. The pads can be re-used until they are 'finished'!
The Power Pad Mini gets hard and unpolished surfaces to shine. This includes sinks, pans, cooking utensils, hot plates, burners, stainless steel and plastic, but also doors, floors, garden furniture, sports shoes, leather upholstery, rims, spokes as well as pencil and marker on painted walls. In short, it is an all-round, powerful, easy-to-use and safe product.
The Balbo Power Pad Mini cleans the impossible!
Power Pad products are available at various stores and online providers. Of course you can also easily order the products in our own webshop. Visit our shop